Register Now!
Registration is open for the 2nd Safe & Together™ Model European Conference: Domestic Violence & Children — 26-27 March 2020
Keynote Speakers
Keynoting at this year's conference is creator of the Safe & Together Model, David Mandel, who will be leading the discussion on why the Model has been transformative to child protection systems internationally. He will take up one of the most controversial topics in this field, how some programme completion certificates are, in reality, dangerous for adult and child survivors.
Perpetrator intervention programme certificates (or completion letters) that primarily reflect attendance or participation – and not real and measurable responsibility and behavior change – can actually increase the ability of perpetrators to control and dominate the lives of survivors and their children.  This session will outline a better approach to perpetrator interventions.
---
Coercive control impacts and harms children. Helping us understand the depth of this concept will be Dr. Emma Katz, keynoting this year's conference. Emma's research focuses on how children and mothers are harmed by coercive control in contexts of domestic abuse. Key issues for Emma are how children and mothers experience coercive control and what helps them to recover. Emma is Senior Lecturer in Childhood and Youth at Liverpool Hope University in the UK. Her work has received international recognition, winning both Women Against Violence Europe (WAVE)'s Corinna Seith Prize, and the Wiley Prize for best article published in Child Abuse Review from 2015-2018.
Follow Emma on Twitter at @DrEmmaKatz
---
Through a series of snapshots, Casey Keene and Katheleen Russell, mother/daughter team recounts and reflects on their experience as survivors of domestic violence. Casey shares diary entries and written memoir excerpts that illustrate her experience as a child exposed to domestic violence. Kathlene draws on the stories to describe the parenting challenges and important lessons learned as a former battered mother of three. Together, their poignant story captures feelings of fear and powerlessness, balanced with the strength of survival through partnership. Highlighting the importance of the mother/child bond, this team draws on their combined experience of 30 years in the movement to end domestic violence to describe helpful interventions and a framework for promoting resilience in children exposed.
---
Special Guest
We are honored to announce, Domestic Abuse Commissioner for England and Wales, Nicole Jacobs, will speak on the state of domestic abuse work at the Safe & Together Conference.
Nicole is the former Chief Executive Officer of Standing Together Against Domestic Violence; an organisation focused on creating a coordinated community response to domestic abuse in West London. Nicole has worked in domestic violence policy and intervention for over 20 years. She began her career at the Alabama State Coalition Against Domestic Violence in the United States. In 1999, she came to London as an early worker at ADVANCE, one of the first advocacy (now IDVA service) services in the UK. In 2000, she began working at Standing Together, expanding the coordinated community response efforts into health settings. After returning to the UK following two years working in the United States at the Institute of Politics at Harvard University, she was part of a small group of individuals and organisations that developed and delivered the nationally accredited IDVA training programme. Her freelance work has included clients such as the CPS, Refuge and multiple local authorities, individual refuges, outreach and IDVA projects. She worked at Refuge as a Senior Operations Manager before becoming the CEO at Standing Together in 2014. She was appointed the Domestic Abuse Commissioner in September 2019. She has a B.A. in Political Science and an M.A. in Public Administration.
Programme
7 Things You Don't Know About the Safe & Together Model
The Safe & Together Model is changing practice across the globe. In this insider session, David Mandel, will give insight into little known and critical aspects of the Model, its development and why it's taken hold across three continents.
Perpetrator Programme Completion Certificates are Dangerous
Perpetrator intervention programme completion certificates are dangerous for adult and child survivors. How can a piece of paper be dangerous? It can be dangerous when it:
Convinces a judge or magistrate to grant a perpetrator unsafe access to children

Convinces a survivor to give a perpetrator another chance that he doesn't deserve

Communicates a false sense that the perpetrator has done all the work to change

Falsely communicates he's changed and now it's the survivor's' job to forgive and forget.
Perpetrator intervention programme certificates (or completion letters) that primarily reflect attendance or participation – and not real and measurable responsibility and behavior change – can actually increase the ability of perpetrators to control and dominate the lives of survivors and their children.  This session will outline some steps to keep the attention of systems on defining, measuring and expecting behavior change as a measure of success for domestic violence perpetrators.
Introduction to the Safe & Together Model: Creating DV-informed child welfare systems
This introductory course will provide an overview of the Model's Principles, Critical Components and some basic practice skills around perpetrator pattern-based risk assessment, case mapping and impact on children. The importance of four foundational skills necessary to achieve domestic violence-informed case practice (assessment, interviewing, case planning and documentation) will be explored and practiced. This full-day course is recommended for anyone new to the model. Attendees will be introduced to:
Using a perpetrator pattern framework

How the Safe & Together Model guides practice (in various roles) through principles and

components

Basic skills around engagement, assessment, case planning and documentation.
Intersections: How to address domestic violence at the intersection of substance abuse and/or mental health
Many families impacted by domestic violence perpetrators' behaviours have multiple, complex, intersecting issues. In the past, we might have referred to these as co-occurring issues, but the language of co-occurrence often doesn't provide us with a sense of how these issues interact. For example, simply stating that the family has issues with domestic violence and substance abuse is not as powerful as explaining how the domestic violence perpetrator interfered with his partner's recovery or how the perpetrator's violence has produced anxiety and/or depression in the adult survivor. Using an intersections framework, versus a co-occurrence framework, we increase perpetrator accountability, improve our ability to assess the family, and our ability to partner with adult survivors.
This session will provide guidance to better understand these intersections and make them work for us in our practice. Participants will be better able to:
Describe how mental health and substance abuse issues intersect with the perpetrator's behaviours and tactics

Partner with the survivor around safety issues related to intersecting issues

Engage and address perpetrators around their intersecting issues

Improve service delivery related to the intersection of domestic violence and complex issues

Improve assessments of how domestic violence intersects with complex issues
5 Questions We're Not Asking About Worker Safety in DV Cases
While most domestic violence perpetrators are not dangerous to people outside the family including social workers and others, considering worker safety is critical element of domestic violence-informed practice. It ties into fears about increasing danger for the family and confidence in directly addressing the perpetrators. In this workshop, participants will examine key worker safety concerns and how to best address them through supervisory practice and organizational changes.
Objectives:
Explore the range of supervisory challenges in domestic violence cases.

Describe three strategies for coaching workers toward more DV-informed practice.

Demonstrate a new Safe & Together Model tool that can be used in the field right away.
Domestic Violence-Informed Leadership: How do I change my agency and my system?
In this workshop, David will explore the steps to becoming a domestic violence-informed agency including engaging the participants in a "mini-organizational" assessment. Cross systems change will also be examined. Pulling from experience facilitating organizational assessments and case readings with systems throughout the country and internationally, this session will highlight some common themes found throughout most child welfare systems and the innovations that can come from these assessments. It will also provide strategies to address gaps in documentation, risk assessments and use of case planning.
Objectives:
   

Discuss how Safe & Together Institute has incorporated the Theory of Change methodology to transform systems and agencies.

   

Review the various components necessary for domestic violence-informed systems to remain sustainable.

   

Participants will leave with several strategies to begin transforming their agency.
Mapping Perpetrator's Pattern: The essential practice tool for workers, advocates and service providers
This workshop will go into more detail on how to use the Safe & Together Model's practice tool: 'Mapping Perpetrator Patterns.' The workshop is for anyone new to Mapping or already using it on a regular basis as it will provide participants an opportunity to practice the use of this tool using complex case examples. The tool will provide participants a closer look at how the Critical Components relate to assessment and case planning practice. It is a concrete tool they can use right away with their current caseload. This workshop is also great for supervisors as the tool can be used for supervision, coaching and assessing worker's domestic violence-informed case practice. 
Objectives:
Review and practice the Mapping Perpetrator's Pattern tool on real cases.

Gain strategies to influence the practice of team members.

Explore little known advantages of using the Mapping Tool as a worker or advocate.
Child Centered Interventions with Perpetrators of Domestic Violence: Case planning with purpose
Interventions with perpetrators of domestic violence often include removing them from the home, punishing them through criminal court sanctions and/or engaging them with services. Participants of this workshop will discuss and learn strategies for complementing traditional interventions with approaches, such as child-centered engagement strategies, setting behaviour-focused expectations to enhance the safety of children, as well as using children as a motivator for perpetrators. Using case examples, role-plays and video demonstrations, this workshop will support participants in finding unique and new ways to work with perpetrators and systems, while remaining remain child-centred. Child protection workers, supervisors, domestic violence advocates and community service providers are encouraged to attend.
Objectives:
   

Practice comprehensive documentation of perpetrators' patterns as they relate to child safety and well-being.

   

Discuss how intersecting issues (like substance abuse and mental health) and the intersectionality of socio-economic factors, systemic oppression or culture have historically diluted or redirected meaningful case plans.

   

Construct case plan that pull from three methods of intervention: engagement with the perpetrator, judicial or law enforcement and service providers.
Certified Trainer Seminar
Safe & Together Certified Trainers and Partner Agencies have dedicated an incredible amount of time and energy to help their own child and family serving systems become domestic violence-informed. After being trained themselves over several days and an ongoing commitment to being mentored over several months, Certified Trainers (and the Partner Agencies who support these trainers) have become the model for sustainable practice change that lead toward better family outcomes. This session is an invitation to all Certified Trainers and Partner Agency representatives to attend a roundtable discussion with Safe & Together Model creator, David Mandel.
*Please note: seminar will be open only to Safe & Together Certified Trainers
Objectives:
   

Have David answer your questions regarding the material or training skills.

   

Share challenges and success stories with other certified trainers.

   

Stay up to date on new Safe & Together tools and resources.
Opportunities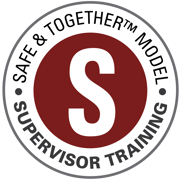 Supervisors Training will be offered ahead of the conference at the same location. In this new, in-person training, supervisors and managers learn key skills to help their workers apply a perpetrator pattern- based approach to casework. Supervisors will learn and practice skills and techniques through interactive exercises that will make a difference in their own practice. Save the date for Liverpool Marriott City Centre on 23-25 March.
Call for Presenters are open before each conference, allowing professionals to highlight the work being done by child protection, co-located advocates, subject matter experts, domestic violence consultants and other professionals bridging the gap between child welfare and domestic violence competency. Read about submitting a proposal.
Champion Awards are our way of helping you recognize the hard work that so many are doing around the globe to implement and promote the Safe & Together Model. Nominate a champion.
Team / Community Discounts are for groups of professionals attending together. It takes a village and you can't do this work alone, so bring 5 people and the 6th person is free! Contact Amy Cook for details.
Return on Investment Packet: We know you want to get the most out of your time at the conference. Download the conference planning packet to map out your experience. Download the conference flier for all the information you need right in one place!
Conference Highlights
Certified Trainer Seminar: The Trainer Certification Program (TCP) has produced professionals certified to train on the Safe & Together Model around the globe, paving the way for sustainable practice change that leads toward better family outcomes. This session is an exclusive invitation for Certified Trainers to attend a roundtable discussion with the Model's founder, David Mandel.  
Valuable Topics: Worker Safety continues to be one of our top focuses. Read the Practioner blog and, part II for Supervisors about worker safety.
Past Conference Feedback: Download the full evaluation report from the 2019 Safe & Together™ Model European Conference. The inaugural conference coincided with the launch of the first group of Safe & Together™ Model Certified Trainers in the United Kingdom. Check out the feedback we received from last year, in addition to the feedback from the 2018 North America Conference and the 2019 Asia Pacific Conference.
Early Bird Rate


(Until 25 Feb)

General Rate


(After 25 Feb)

Certified
Trainer
Student
Rate
Masterclass & Conference


Wed-Fri / 25-27 March

£450
£540
£270
£400
Conference Only


Thur-Fri / 26-27 March

£300
£360
£180
£270
Masterclass Only


Wed / Mar 25 

£150
£180
£90
£130
About the Safe & Together™ Model
What's being said around the globe about the impact of the Model