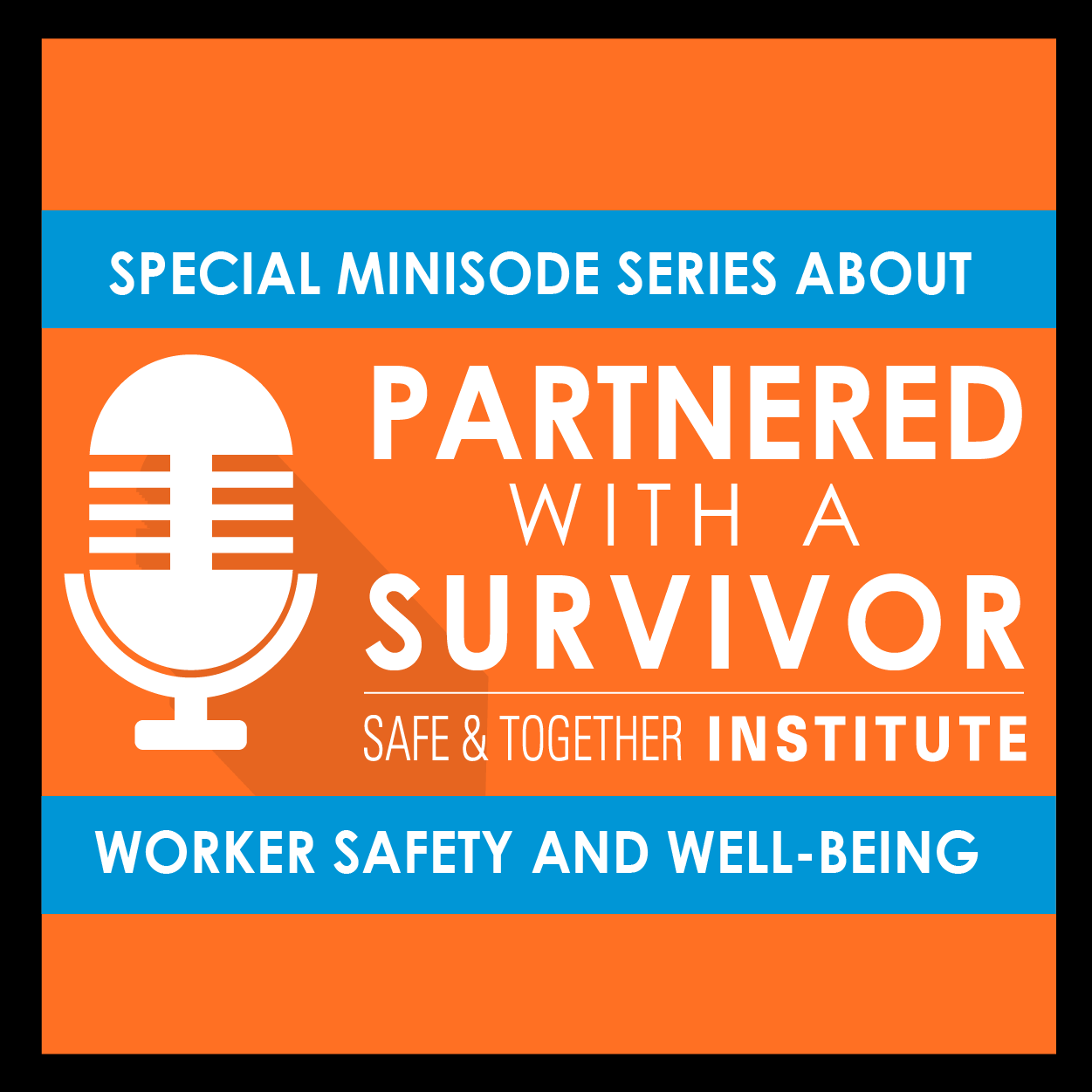 29 Nov

Season 2 Episode 23: Minisode on Worker Safety & Well-Being: When Workers Are Survivors Themselves
In this fourth installment of the multi-part minisode series on worker safety and well-being, Ruth and David explore when workers are being targeted by their own perpetrator, and the implications for the workplace. In a just over 20 minutes, David & Ruth discuss: 
David's history with worker personal disclosures about their own victimization 
How workers going through the Safe & Together Model training are seeing their own experience reflected in the material
How agencies are using the Safe & Together Model to identify employees whose performance is suffering due to abuse and provide them with greater support 
In the middle of the minisode, David and Ruth discuss perpetrator behaviors that target the workplace including: 
Behaviors that cause survivors to miss time at work like taking the car or stopping her from leaving or making her worried the children will be unsafe if she leaves
 Unwanted, often repeated calls to the workplace, showing up at work
Stalking and surveillance behaviors which may make it fearful for someone to be out in the community
Accusations of affairs if she meeting alone with male clients
When the professional works for agencies like child protection or the courts, threats of calling the police or child protection may carry with it extra shame and fear of losing employment
As a result, survivors may have performance issues including missed days, lateness, being distracted or unable to focus at work, irritability with coworkers, and feelings of being overwhelmed. 
In the final portion of the minisode, David & Ruth outline some strategies for agencies including: 
Ensuring that any employee safety policy explicitly recognizes the connection between coercive control and employee performance, and how perpetrators target workers at worker as a powerful form of control. 
Agencies need to clearly articulate how it will support and respond to an employee who is experiencing domestic violence including how performance concerns will be handled sensitively and in context.
Particularly important in agencies where a threat of a report creates fears for one's jobs and shame, any workplace policy needs to be clear about how survivors confidentiality amongst peers will be safeguarded, e.g., specialized process for handling information.
When the perpetrator is a fellow employee, the consequences for abusive behavior must be clear. 
The agency policy must work to be responsive to the needs of survivors, e.g., reassignment to a different area or rotation of schedule to respond to threats of stalking that may impede performance or safety;
Communication of this policy must be shared proactively on a regular basis so that survivors have the information they need to protect themselves from threats against their job. 
Train supervisors, managers and HR around handling these items consistently with policy, including training to always consider domestic violence victimization as one of the possible reasons for poor performance.
Institute a flex policy that supports workers in their ability to attend court for protection order hearings, criminal cases and family matters when domestic violence is involved. 
About the worker safety and well-being minisode series   
The goal of the series is to address the critical issues of worker safety and well-being as a critical aspect of domestic violence-informed systems. This is a series for frontline staff across child protection, mental health and addiction, courts and other systems. 
Join us on January 13-14 2022 for our fully virtual Europe/North America Safe & Together Model Conference.  Go to our website and check out our events page to learn more and to register. 
More About The Podcast
You asked, we answered. Amidst our current, global political and social upheavals, during movements, activism and testimonies, legal cases, fear and victim-blaming – we've heard your voice asking for clarity, insight and thoughts about how all of this is reflected in the Safe & Together Model. Many of the stories and news pieces we hear about from our partners all over the world involve complex questions, yet the beginnings of change and hope are based on the sound, simple principles of the Model.
To that end, in our new podcast, "Partnered with a Survivor," S&T's Executive Director and Founder, David Mandel and Ruth Reymundo Mandel offer a raw and intimate glimpse into their personal and professional partnership and what it means to truly partner with a survivor, raise a family based on S&T principles and engage in social change at every level. This is a podcast for practitioners and parents, partners and employers, coworkers and friends – and anyone else who may want clarity, understanding, hope and healing.
What does it mean to give consistent consent? What is coercive control? How do you probably see it or feel it every day? This is a podcast you'll wish you had heard when you were a teenager. In unsure, confusing times, it's our goal to widen the audience for the Safe & Together Model-associated material to survivors, their family members, and even perpetrators. For professionals familiar with the Model, it will offer another angle on the issues addressed by the Model. For those who don't know Safe & Together, it offers a connection to the themes and ideas behind the work.
These podcasts are a reflection of Ruth & David's on-going conversations which are both intimate and professional and touch on complex topics like how systems fail victims and children, how victims experience those systems, and how children are impacted by those failures. Their discussions delve into how society views masculinity and violence, and how intersectionalities such as cultural beliefs, religious beliefs and unique vulnerabilities impact how we respond to abuse and violence. These far-ranging discussions offer an insider look into how we navigate the world as professionals, as parents and as partners. During these podcasts, David & Ruth challenge the notions which keep all us from moving forward collectively as systems, as cultures and as families into safety, nurturance and healing.
Note: Some of the topics discussed in the podcast are deeply personal and sensitive, which may be difficult for some people. We also use mature language to describe some feelings. Finally, we use gender pronouns like "he" when discussing perpetrators and "she" for victims for two reasons: 1.) statistically, more men are perpetrators than are women when it comes to domestic violence, abuse and coercive control; and 2. For clarity's sake, sticking with one pronoun causes less confusion for the listener. We know there are many men who are in abusive relationships and we are not invalidating their situations.
About the podcasters: David and Ruth are committed to creating systems and cultures of nurturance and safety. David Mandel founded the Safe & Together Institute which trains systems in domestic violence aware practices from a child safety lens. Ruth Reymundo Mandel is a survivor of complex abuse, child abuse and domestic abuse growing up in a cult. She is a former teacher and trainer using her experience to clarify messages and complexities around abuse and survivors.